Scanned publications from Uppsala University, with data from seismological records from the years 1904-1998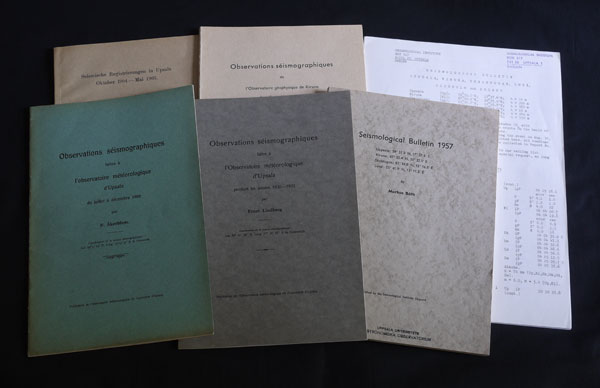 Some examples of publications in the series where seismological data from the 20th century were being published. Photo Lars Andersson (click to enlarge).
Observations séismographiques
The Uppsala Series, 1904-1955:
Note: For May 1917 - December 1918, the spread with pp. 32-33 is followed by two different spreads, both with page numbers 36-37. Reasonably, the first spread should have page numbers 34-35.
Before the start of the series, in July 1906, data from October 1904 - May 1905 were published in an article by Filip Åkerblom (included below).
In the first two links a short background to the establishment of a seismological observatory in Uppsala is given (in German and French respectively).
Filip Åkerblom: "Seismische Registrierungen in Upsala Oktober 1904 - Mai 1905"
The Kiruna Series, 1951-1955:
Seismological Bulletin, 1956-1998
The first four of the volumes are printed, following the same style as the predecessor "Observations seismographiques". The following years, 1960-1998, consist of Xerox copies.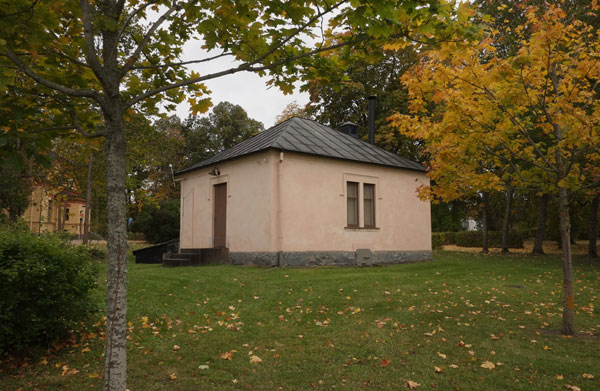 In this building in the Observatory Park in Uppsala, the Wiechert Seismograph was installed in October 1904. H. H. Hildebrandsson, Professor of Meteorology, took the initiative. Photo Lars Andersson (click to enlarge).
In addition to the background given at the outset by Filip Åkerblom (in the first two links on this page), a history of seismological observations in Sweden, written in 1996 by Ota Kulhanek and Rutger Wahlström, is given below.
Kulhanek, O. & Wahlström, R. (1996). History of instrumental seismological observations in Sweden. In: R. Wahlström (ed.) Seismograph Recording in Sweden, Norway - with Arctic Regions, Denmark - with Greenland, and Finland. Proceedings from the Uppsala Wiechert Jubilee Seminar. Seismological Department, Uppsala University, August 22-23, 1994, pp. 8-17. (With permission from the authors.)